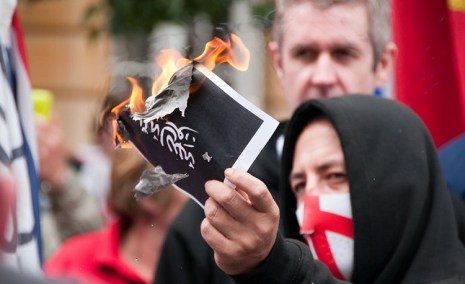 The Norwich Evening News reports that the English Defence League are planning to hold their first demonstration in Norwich later this year. The demonstration, which is planned for November, has been organised in protest against a violation of 'freedom of speech' according to the EDL. It follows the decision by Norwich City Council to ban a local church from holding a bookstall in the town after complaints were raised about '"hate-motivated" Islamic leaflets being distributed.
From the local paper:
"The English Defence League will hold its first march in Norwich this November, citing a decision to ban a Christian bookstall as a reason for the demonstration.
"Police confirmed they had been approached by the EDL about the protest for Saturday November 10.
"The EDL, which has 81 members on its Norwich Facebook page, listed the banning of Reverend Alan Clifford of the Norwich Reformed Church from using a market stall on Hay Hill as a reason for the march.
"They believe the decision by Norwich City Council, following a complaint about anti-Islamic leaflets, violated freedom of speech.
"A campaign group called We are Norwich said it will hold a counter-protest to celebrate the city's diversity.
"Green Party councillor Lucy Galvin added: "Communities in Norwich have a long tradition of religious acceptance and living together respectfully."
A spokesperson from Norwich City Council spokesman said that "We understand the march relates to a decision we took earlier this year following a complaint from a member of the public about published material which was considered to be hate-motivated."
In June this year the EDL were banned from meeting at a pub in Norwich after locals complained about their presence. The anti-Muslim leaflets referred to in this article were entitled 'Why not Islam' and began with the statement, "Too many churchmen as well as politicians are gripped by cowardice in the face the Muslim menace." The Reverand responsible for the leaflet, Rev Alan Clifford, is notoriously Islamophobic, having in the past stated his agreement with the BNP that Islam is "evil", and has commented amongst other things that Islam is a "monster in our midst".
Meanwhile it has been reported that an operation involving 800 police officers will take place tomorrow in Walsall to manage a static demonstration being held by the EDL as well as a counter-demonstration which will be taking place at the same time.