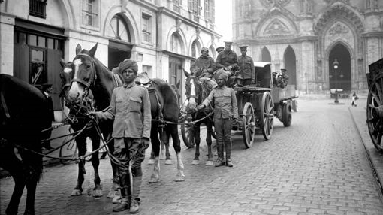 | | | |
| --- | --- | --- |
| | | Restoration work has begun on a cemetery in Woking built for Muslim soldiers killed in combat during the two world wars and is expected to be completed in time for the 100th anniversary of the outbreak of WWI (4 August 2014), BBC News reports. |
The Muslim Burial Ground in Horsell, near Woking, once restored, is expected to serve as a garden of peace and remembrance.
John Kingsbury, leader of Woking Borough Council, who attended the event marking the start of restoration work yesterday, said the heritage site held significance "not only locally but also for the descendants of those who gave their lives in the First World War".
More than one million troops from pre-independence India fought for Great Britain during World War I with as many as 74,000 losing their lives. In June, Baroness Warsi called for the recognition of the contributions of "Tariqs and Tajinders" in the official commemoration service for the war dead.
When Hindu and Sikh soldiers died they were taken to crematoriums but Muslim soldiers had to be buried. The first burial at the Muslim Burial Ground in Horsell did not take place until 1915 and the Woking site was fully completed in 1917.
During World War II, a further eight Muslim soldiers were interred at the site, including three from the Free French forces.
The restoration work comes as the Government considers proposals to send British Muslim soldiers into schools to combat Islamophobia. The Independent on Sunday last week reported that the Government taskforce on combating radicalization, set up after the murder of Drummer Lee Rigby, is to consider the initiative to "dispel myths from far-right organisations such as the EDL and from radical Islamic preachers that being Muslim was somehow incompatible with being a patriotic British citizen."