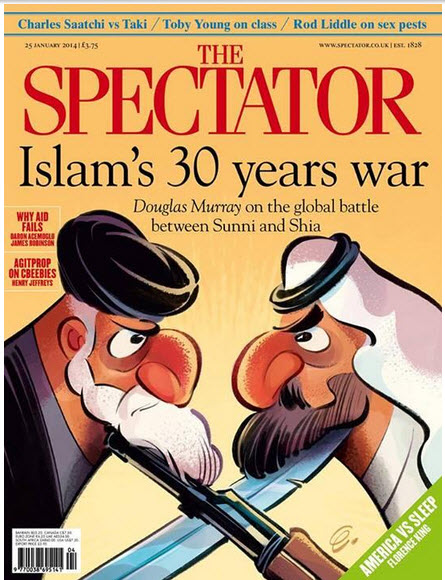 In a cover story reminiscent of tropes used to malign Jews, Douglas Murray in last week's Spectator magazine wrote abput the Sunni-Shia schism and its 'clarification' of politics and power in the Middle East.
Deigning the conflict in Syria and Sunni-Shia tensions in countries like Bahrain, Saudi Arabia and Iraq, a 'thirty years' war, Murray explores where the conflicts may lead focusing on the roles of Saudi Arabia and Iran.
The accompanying image is perhaps one that is likely to attract some disdain. It portrays two Arabs with large noses, echoing a well known anti-Semitic trope. Not since the Spectator published the cover story
'How to spot the jihadi next door'
has the magazine graced its cover with such an unpleasant image.