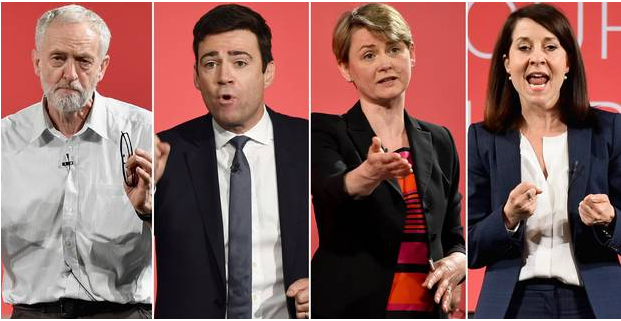 The Independent has published statements from the Labour leadership contenders on addressing race inequality in the UK.
Jeremy Corbyn, the favourite to win the Labour leadership race, having secured support from a number of trade unions, promised that confronting racism in Britain would be one of his "top priorities."
Corbyn suggested that progress on race equality has been stunted, referring to theBritish Social Attitudes (BSA) survey last year which showed that 1 in 3 people in the UK admit to being 'very' or 'a little' racially prejudiced. Corbyn warned that "years of immigrant bashing and Islamophobia is taking a toll."
Research from Show Racism the Red Card earlier this year showed that younger generations are displaying worrying attitudes towards Muslims, immigrants and asylum seekers with 60% of the children surveyed believing that "asylum seekers and immigrants are stealing our jobs" and35% agreeing or partly agreeing that "Muslims are taking over our country."
Corbyn also drew attention to a report by the Runnymede Trust this week, which warned that minority ethnic communities would be hit the hardest by the Conservatives' budget cuts, arguing proposals were "plunging millions into poverty and running the risk of widening Britain's racial divide."
Corbyn concluded: "Britain needs a politics which unifies our country, an economy that provides decent jobs, homes and education for all, and a society where there is no place for racism."
Yvette Cooper pledged to "more than double the number of BAME MPs in a Labour majority Parliament" if elected leader.
The General Election this year brought 41 BME MPs into the House of Commons, this is the highest figure in history. However, it still only equates to 6.3% compared to theBME population in the UK which stands at 14%.
Cooper stated that she wanted to "oversee a taskforce engaging with BAME MPs, councillors, NEC members and local Party activists, to ensure a step change in support for BAME candidates and activists."
Cooper also spoke of her work as Shadow Home Secretary campaigning for more diversity in Britain's police forces. She pledged to "place a legal requirement on police forces to increase diversity" and "change the law to allow New York-style "affirmative action" in recruitment policies."
This week, the Daily Mirror reported that four UK police forces still do not have any officers from black backgrounds. Only 11% of officers working for the police force in the most ethnically diverse city in the UK, London, are from BME backgrounds, whereas 55% of the capital's population belong to an ethnic minority.
Andy Burnham argued that Labour, historically the party of choice for ethnic minorities, took votes from BME communities for granted "without a meaningful conversation about what we can do in return."
"We need to reach out to all people who have lost their trust in us and no longer see Labour as being on their side," he said.
The think-tank British Future reported after the 2015 General Election that the Conservative party had increased their share of the Black and Minority Ethnic (BME) vote from 16% in 2010's General Election, to 33% in the most recent election. However, data from the authoritative British Election Study and YouGov polling data, both of whose samples are larger than the online poll conducted for British Future, suggests that claims the Tories are making significant inroads into BME voters are premature. The Conservatives are said to fare better among British Asian voters from Sikh and Hindu backgrounds than Muslim, Black or Mixed race voters. Yesterday, results from a British Election Study survey of 30,027 people revealed that Labour received 72 per cent of the Muslim vote.
Since winning this year's general election, the Conservatives, who received 15% of Muslim votes, are likely to have pushed Muslim voters even further away with the introduction of legislation that further curtails Muslim civil liberties and with the PM accusing British Muslims of "quietly condoning" extremists.
Burnham goes on to discuss BME representation in Westminster vowing to ensure "half the places on Labour shortlists go to BAME people in parliamentary constituencies where over 50 per cent of the voters are BAME."
Lastly, Liz Kendall argued that the Labour Party "should be asking the same hard questions about the performance of public services – like health – that we continue to ask of the police on stop and search."
"We must stand up and be counted when anti-Semitism, Islamophobia, or any form of racism rears its ugly head," she said.
"And we shouldn't sell stupid mugs," referring to the controversial 'controls on immigration' mugs sold on the party's online store during the 2015 general election.
Kendall promised BME communities that if elected leader she would care for Britain's "finances with the same diligence anybody would apply to their own," have "the same ambitions for your children as you do" and answer "the injustices in our society with actions in government."
Tellingly, Kendall also last week spoke against Labour's support for a backbench motion calling for recognition of Palestinian statehood saying, it was not the "right thing to do."
The results of the leadership election will be announced on 12 September 2015.