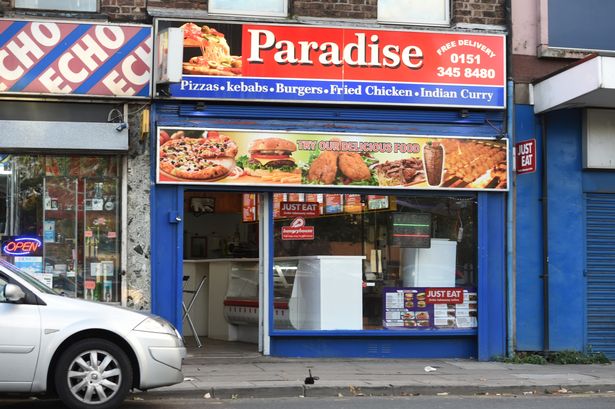 The Liverpool Echo and The Mirror report on another "P*** bashing" incident with news of an incident at a takeaway in Liverpool where three drunk schoolgirls racially abused and beat up staff. Hassan Ghazi, 61, had his nose broken in the assault when one of the girls struck him in the face with her boot.
The local paper reports on the attack which was carried out by three girls, aged 14 and 15, on staff working at the Paradise Pizza and Kebab shop on 5 February 2016.
The court heard the girls behaved like "wild animals" attacking victims Hassan Ghazi, Robert Kulys and Kurosh Azari.
Mr Kulys and Mr Azari were helping Mr Ghazi renovate the shop when the attack happened. The court heard the girls abused the men calling them "P***s" and telling them to "go home".
One of the girls removed her boot and hit Mr Ghazi in the face with it, breaking his nose.
The girls picked up weapons including a screwdriver and shelf fittings and "repeatedly" hit the men with them.
Two of the victims were spat at in the face by the girls and one girl used the screwdriver to cause damage to work surfaces and other equipment.
The girls pleaded guilty to three charges of racially aggravated assault and one charge of racially aggravated criminal damage when they appeared before Liverpool Youth Court yesterday.
District Judge Wendy Lloyd who viewed CCTV of the incident said: "Bluntly, what I saw was absolutely terrifying. I took the opportunity to look at all the various camera angles in great detail, and what I saw took my breath away; I felt physically ill."
In a victim statement read out in court, Mr Ghazi said: "They were like wild animals, I have never seen anything like it. We tried to stay calm because they were just young girls. They attacked us for about 10 minutes until we managed to get them out of the shop.
"I was really scared, shocked and upset that three girls could inflict so much injury on three grown men."
Mr Kulys and Mr Azari, along with Mr Ghazi, expressed feeling "scared of repercussions".
Lawyers acting for the girls told the court the defendants acknowledged their behaviour as "unacceptable" and that they had complied with the bail conditions set by the court.
Judge Lloyd set a curfew ordering the girls to remain indoors between 7pm and 7am for three months, and issued a three-year restraining order banning them from approaching the victims or the Paradise takeaway.
The court imposed the Anthony Walker course on the girls to address their "clearly racist and aggressive tendencies".
They were also ordered to pay £250 compensation each.