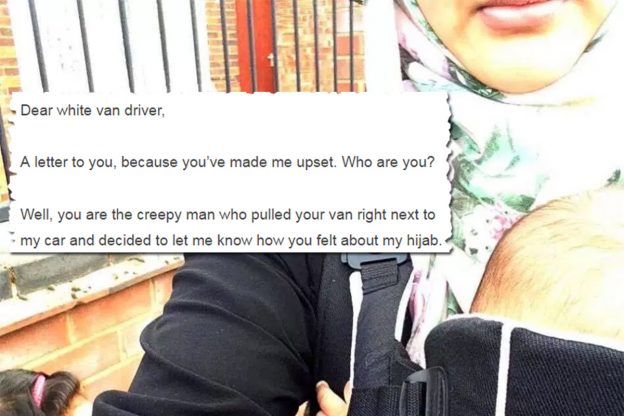 The freesheet, The Metro, reproduces an open letter published on Facebook by a Muslim woman from Peterborough who was subjected to different incidents of racial and religious abuse over the summer while going about her daily business.
Umm Yusra, 33, disclosed details of the hate incidents occurring between June and September in a Facebook blog. The mother of two wrote about an incident which happened when she was eight months pregnant and a man in a van drove up alongside her car and shouted "what the f*** is on your head?"
A second incident described in her blog refers to a man who on seeing Umm Yusra struggle to get her shopping in her car while out with her three year old child, said to his girlfriend "Look at that Paki? Look, she can drive too!"
When Umm Yusra looked at the racist, he replied, "Oh, you understand what I'm saying, Paki?"
A third incident related in the blog describes the abuse uttered by a man who saw Umm Yusra walking down the street with her two children, a three year old child and three month old baby, and shouted out at her "F****** terrorist taking over our country with their scarf and mosques."
In her post, Umm Yusra refers to populist anti-Muslim prejudice emanating from "government and the media".
"This is not me stereotyping," she wrote.
"The current political and media narrative of "swarm of immigrants and Muslims taking over Britain" (or the whole West) is being echoed unashamedly by some in public or by some just under the breath and some are just thinking it.
"The way I see it is, that, these people are projecting what they hear; what they hear from the government and the media," she added.