Mend is run by hundreds of ordinary people from all walks of life who come together to tackle Islamophobia.  We have professionals, housewives, students, entrepreneurs and more all contributing to the cause.  Together Alhamdolillah we have made a massive impact in the fight against Islamophobia. This is everyone's fight to ensure our children inherit an Islamophobia-free country insha'Allah
Lump Sum
Make a one off payment via Paypal. All major credit cards & debit cards accepted.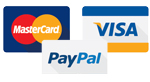 Monthly donations
Direct Debit
Setting up online direct debit will take only 2 minutes. Set up a direct debit online via GoCardless.


Bank Details
Bank: Al Rayan Bank
Account Name:
MENDUK
Account Number:
01285201
Sort Code:
30-00-83



"And whatsoever you spend of anything (in Allah's Cause), He will replace it." (34:39)
On behalf of everyone at Mend, we thank you for your continued support.