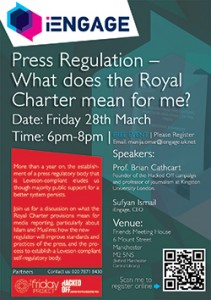 "There are enough examples of careless or reckless reporting to conclude that discriminatory, sensational or unbalanced reporting in relation to ethnic minorities…is a feature of journalistic practice in parts of the press, rather than an aberration."    Lord Justice Leveson
Almost a year after the publication of the Leveson Inquiry report into the Culture, Practice and Ethics of the Press, the Government and Opposition agreed a Royal Charter to implement many of the important recommendations advanced by Lord Justice Leveson to improve journalism and rebuild public trust in the press.
More than a year on, the establishment of a press regulatory body that is Leveson- compliant eludes us though majority public support for a better system persists.
Join us for a discussion on what the Royal Charter provisions mean for media reporting, particularly about Islam and Muslims; how the new regulator will improve standards and practices of the press, and the process to establish a Leveson compliant self-regulatory body.
Speakers
Prof Brian Cathcart
Founder of the Hacked Off campaign and
professor of Journalism at Kingston University London.
Sufyan Ismail
iEngage, CEO
Date:
Friday, 28 March 2014 from 18:00 to 20:00
Venue:
Friends Meeting House
6 Mount St
Manchester
M2 5NS
Register to attend:
---
Engage in partnership with The Friday Project & Hacked Off