Britain First leader mocked on Twitter over "Islamisation" video outside mosque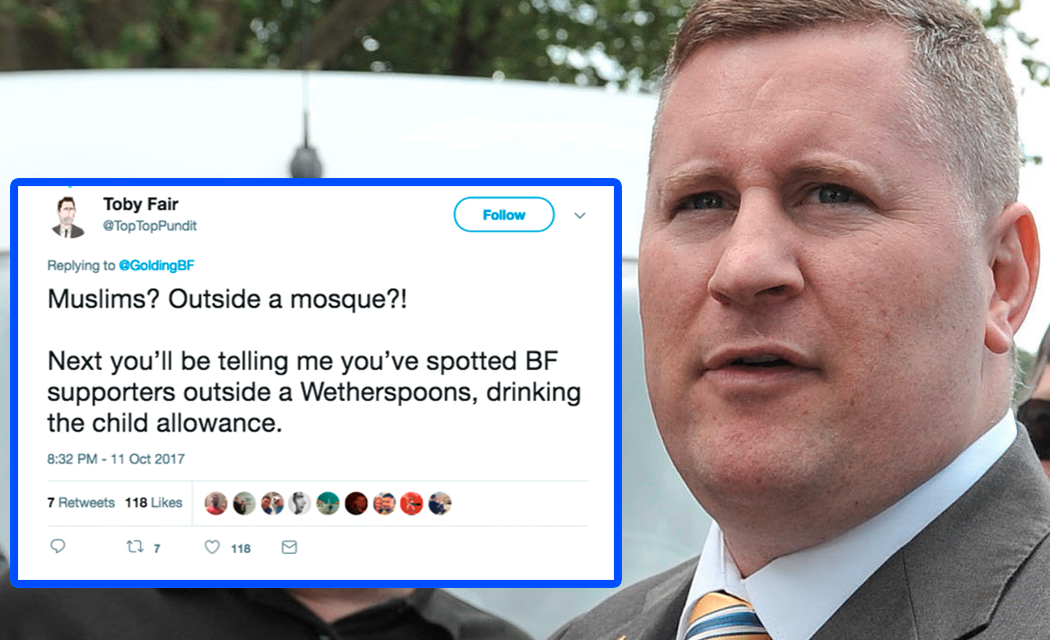 Categories: Latest News
Thursday October 12 2017
Britain first leader, Paul Golding, known (and jailed) for his 'mosque invasions' is at it again.
In August 2016, Paul Golding and his deputy leader, Jayda Fransen, were banned from entering any mosque in England and Wales for three years, but he was arrested only nine days later and imprisoned for eight weeks for doing just that.
Since being released from prison, Golding has continued to harass Muslims, but just outside mosques instead of inside them.
In June, Golding turned up outside East London Mosque, while worshipers were preparing for mid-day prayers and collecting donations for the victims of the Grenfell Tower fire. In a video to the group's supporters he said "This used to be our area, it will be our area once again."
After the Parsons Green attack, Golding harassed Muslims outside a mosque in South London telling them to "take responsibility for the actions that take place in their name" and that ISIS and Al Qaeda are "Islamic."
Yesterday, Golding uploaded a video on Twitter with the caption "VIDEO The Islamisation of Britain." The video footage shows a mosque in Leicester with Muslims standing outside.
VIDEO: The Islamisation of Britain! pic.twitter.com/okApT9eRC3

— Paul Golding (@GoldingBF) October 11, 2017
As always, the good people of Twitter reacted with the humour these kinds of posts deserve.
Some commented on how 'surprising' it was to see Muslims outside a mosque. Who would have thought?
Muslims? Outside a mosque?!

Next you'll be telling me you've spotted BF supporters outside a Wetherspoons, drinking the child allowance.

— Toby Fair (@TopTopPundit) October 11, 2017
Good heavens, Muslims near a mosque. All is lost.

— Mike Wilson ❤️🇪🇺 (@PoetTaxiDriver) October 11, 2017
Lol.
If U drive past a football stadium, you'd see lots of football fans.

I bet if U drive past a Cinema, you'd see lots of Cinema-goers

— JammyDodger 🔷 (@mrjammyjamjar3) October 11, 2017
While others commented on his lack of respect for British law.
That is a 30mph zone & U were breaking the law by driving so fast.
If U can't obey British Law, maybe U should leave the country, Paul?

— JammyDodger 🔷 (@mrjammyjamjar3) October 11, 2017
Aren't you driving a bit fast for a residential road?

— muad dweeb (@sampanszatan) October 11, 2017

And others mocked the gullibility of those who believe anything when it comes to so called Islamisation. (Like the people who believed Big Ben was going to be renamed Massive Mohamed.)
wait till you see this pic.twitter.com/0ysRedlJl0

— MUSLIM PATROL (@Muslim_Patrol) October 11, 2017
It's absolutely disgraceful. This one in Manchester is huge. pic.twitter.com/gqFigLMOqo

— ant (@FattusAntus) October 11, 2017
There's a big one in London already. I've seen them waving flags inside pic.twitter.com/BAZVpdOAKp

— AÖA (@AllOutttaAngst) October 11, 2017