ENGAGE briefing for the Police and Crime Commissioner Elections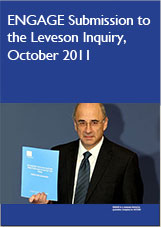 Categories: Latest News
Tuesday December 04 2012
Introduction
On Thursday 15th November 2012, the electorate in England and Wales vote for the newly created position of Police and Crime Commissioner (PCC) in 41 constabularies across England and Wales.
Each PCC will effectively take over the role currently performed by local Police Authorities, and will be responsible for ensuring efficient and effective policing as detailed in the policing plan and crime strategy formulated for each police force area. The PCCs will also be responsible for appointing and, if necessary,
dismissing chief constables.
ENGAGE have developed a manifesto which we believe deals with the most urgent priorities in policing affecting British Muslims. We are working with grassroots communities and Muslim organisations to urge all PCC candidates to pledge their support for our key campaign issues:
1. Recording Islamophobia
2. Reforming Stop and Search
3. Tackling far right hate groups
4. Developing partnerships with Muslim communities