Exhibition with Islamophobia Causes & Cures Presentation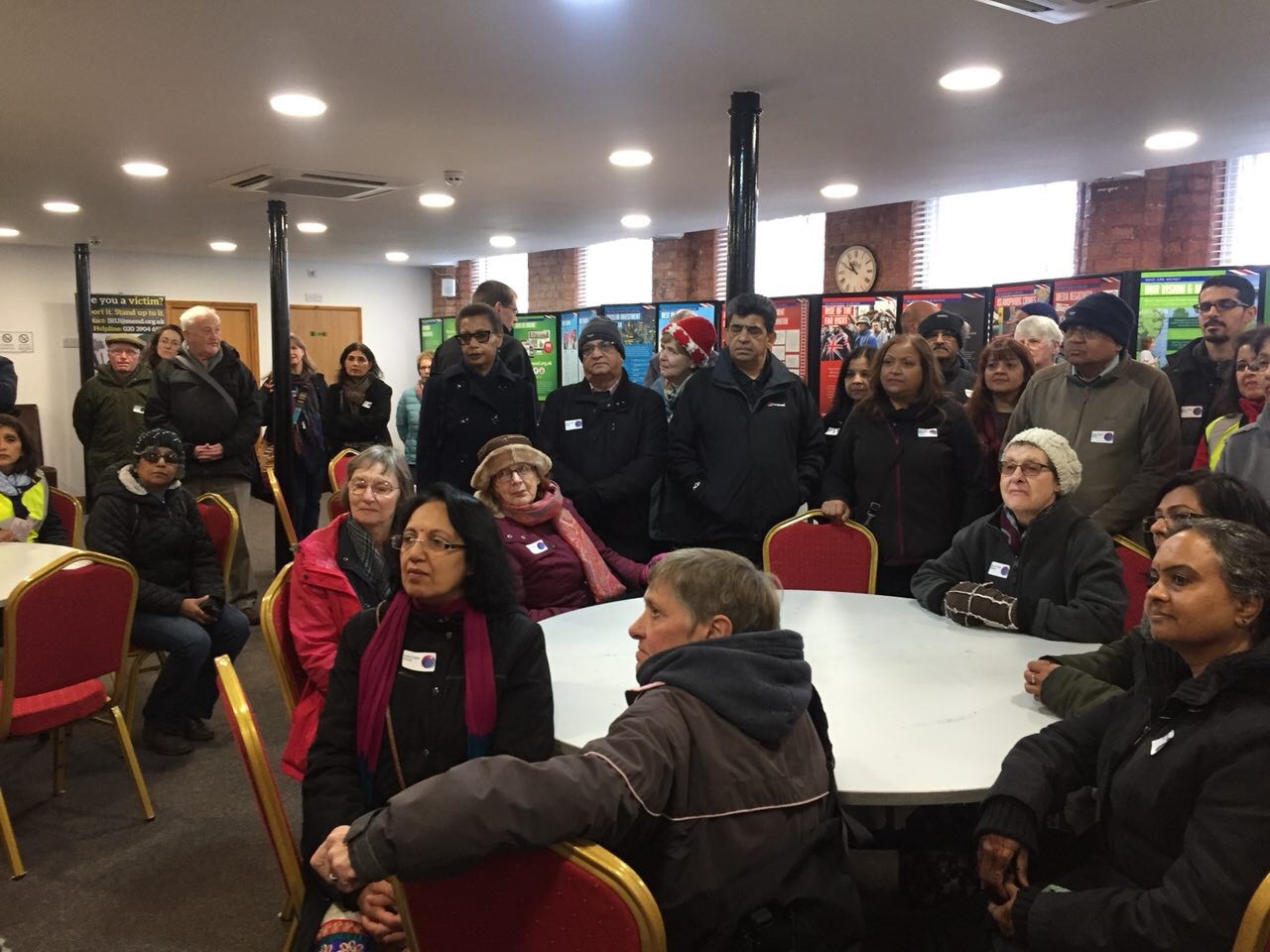 Categories: Past Event Articles
Thursday December 14 2017
#IAM2017
Exhibition with C & C's Presentation by Irfan Mohamed
18th and 19th November
@ The City Retreat Leicester
An amazing 2 day exhibition on Islamophobia Awareness in the heart of our diverse Leicester City. It allowed us an opportunity to open up discussions which some would prefer to avoid and ignore. Islamophobia is real, it is happening and we all need to take a stand against it.
Many people who visited the exhibition were aware of Islamophobia but they didn't realise the detrimental effects it has on the individual.
#IAM2017 has brought these discussions to the forefront and allowed communities in Leicester to empower themselves for change.
The launch of the IRU has given many victims a sense of safety – ' Knowing we have someone to talk to will help me deal with incidents differently and I feel better already ', from one attendee!
The City Retreat which is in the heart of the city welcomed Interfaith Walkers to come and see the exhibition and ask questions, dispelling many of the myths and misconceptions around Islam, Muslims and Islamophobia.
Here are some of the comments left by attendees:
-I think the exhibition is a great way to raise awareness of Islamaphobia to the general public. The stands themselves were very informative but, more importantly, to have people present (i.e. Rukhsana) happy to engage with the public, answer questions, and what's more try to break down stereotypes, is brilliant. 👌🏼
– Personally I have not witnessed anything explicit, e.g. Racial hatred, taunts, verbal or physical attacks. However, perhaps equally as concerning, is the growing emergence of synonymity between 'terrorist' and 'Muslim', the fear generated by media propaganda and political spin, causing even the previously open minded to jump on the 'hate band wagon'. I notice this in the day to day generic comments made by average people i.e. 'They don't want to intergrate…', 'They don't want to work' etc etc, none of which is true or learned from experience, just fed from the media and designed to divide us all, create conflict and thus we become easier to rule. Classic power elite political strategy.
– My opinion- I feel deeply sad and angry that Muslims have become the scapegoat for political fundamentalist ideology. As an atheist I have no desire to promote Islam, or any other religion. However, I can appreciate the goodness and warmth in all. I can say in all honesty, and from experience growing up in a Muslim country, I know that Islam practiced in its true form, promotes peace, kindness, caring and generosity. The fact that an entire religion is being vilified due to the actions of people who cannot proclaim to be true Muslims (their actions are blatantly forbidden by Islam), is, as I see it, a crime against humanity itself. I feel we all have a duty, and I as a white British female, to promote awareness and help to build bridges across the fear of the unknown. Learning about MEND only today, I am so delighted to see they are already doing this exact thing. Thank you Mend 🙏🏼