Katie Hopkins is the new contributor of Canadian far-right website Rebel Media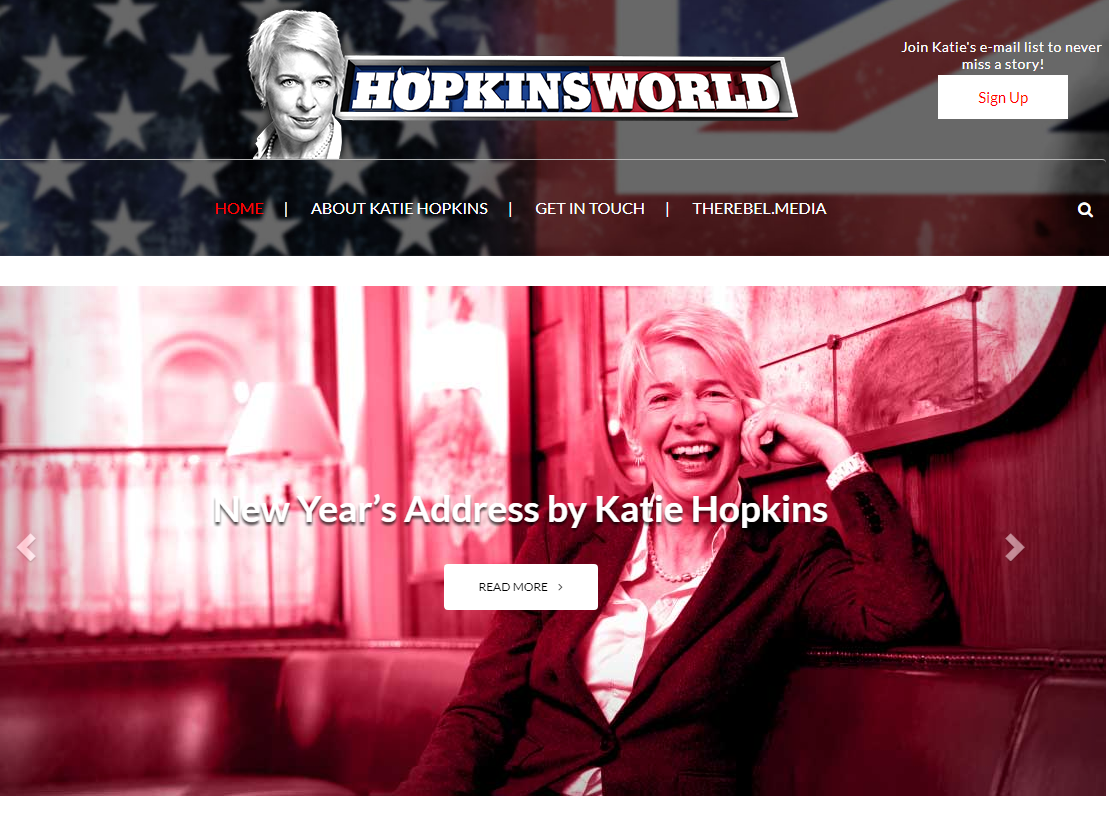 Categories: Latest News
Thursday January 04 2018
The Guardian reports that Katie Hopkins has joined Rebel Media, a Canadian website where EDL Tommy Robinson is also a contributor.
Through her new website called Hopkins World, Ms Hopkins will contribute to Rebel Media with regular columns, video commentaries and even investigative reports.
She said that the aim of Hopkins World is to "tell the stories not being told", reassuring her readership that "If you hear yourself saying: 'I'm not supposed to say this, but …' then I am here to reassure you that you are. Your views matter. You matter."
The newly launched Hopkins World is already filled with controversial claims. In an entry dated 2 January 2018, the former Apprentice participant wrote that "our children are not safe from the Muslim takeover of Britain", and in another she contended that "uncontrolled immigration is killing our NHS" because "British people are being forced out of their health service – which they fund and have funded all their lives – by recently arrived immigrants".
Hopkins is renowned for her controversial views. One of her most disturbing pieces – written for The Sun – involved comparing African migrants crossing the Mediterranean with "cockroaches" and calling for gunboats to stop migrants reaching their destination. Even the UN high commissioner for human rights, Zeid Ra'ad Al Hussein, condemned the article, comparing the language to that employed by Rwanda's Kangura newspaper and Radio Mille Collines during the run up to the 1994 genocide.
On a different occasion, Mail Online was forced to pay £150,000 in damages to the Mahmood family for an article written by Hopkins and titled "Just because Britain's border security is a Mickey Mouse operation you can't blame America for not letting this lot travel to Disneyland – I wouldn't either". In it, she claimed that Mohammed Tariq Mahmood and his brother, Mohammed Zahid Mahmood, were extremists with links to Al Qaeda.
It is also worth remembering that Mail Online was forced to apologies and pay "substantial damages" to a schoolteacher for an article written by Hopkins, in which she claimed that the schoolteacher had taken her class to a Donald Trump protest in Westminster.
Shortly after, Mail Online announced that it parted ways with Hopkins.
Despite it all, Hopkins has now found the perfect outlet for her anti-Muslim hatred. Indeed, Rebel Media was founded by Ezra Levan, a Canadian media personality, conservative political activist, writer and broadcaster with a remarkable contempt for Islam.
The National Post described Levan's Rebel Media as "a global platform for an extreme anti-Muslim ideology known as counter-jihad. It's a far-right fringe theory founded on the belief that Muslims are deliberately invading the West, biding their time, then overtaking communities and imposing Shariah Law."