Online racist fined for posting abuse to Scottish Minister, Humza Yousaf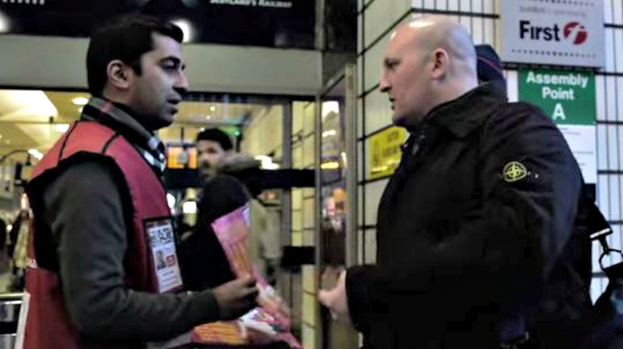 Categories: Latest News
Friday February 12 2016
The Daily Record reports on a fine imposed on a man who sent vile messages to Scotland's International Development Minister, Humza Yousaf MSP following the Paris attacks on 13 November.
On 14 November 2015, Garry David, 42, told Mr Yousaf on Facebook to "get to [sic] f*** out of my country."
Prosecutor Azrah Yousaf told Dunfermline Sheriff Court that Mr Yousaf had received a number of racist messages on Facebook following the atrocities, including messages sent by Mr David.
One of the messages written by Mr David stated: "F*** you, your name tells me everything I need to know about you."
In a second post, Mr David told Mr Yousaf, who was born in Scotland, to "get to [sic] f*** out of my country." He also called him a "smelly P*** b******."
In one comment referring to Muslims, David said that it was "disgraceful how we lie down to their way of life".
Mr David admitted acting in a racially aggravated manner towards Mr Yousaf on 14 November. He was fined £700 by Sheriff Craig McSherry.
In recent months, Mr Yousaf has suffered a spate of racial and religious abuse on social media. In December last year, a man was fined £500 after he admitted sending Mr Yousaf a tweet in March 2015 that said: "Your [sic] a p***. Don't tell us white guys what we can and can't do."
In June last year, a man who subjected Mr Yousaf to racist abuse as he took part in a charity event raising funds for the homeless outside Glasgow's Queen Street station received a community service sentence for committing a racist offence and for being in breach of the peace.
Earlier this month, a Scottish National Party councillor was suspended by the party and then resigned from his position for allegedly sending Islamophobic text messages to a female Muslim colleague, which included Islamophobic abuse directed at Mr Yousaf. Referring to Mr Yousaf's visit to refugees on the Greek island of Lesbos, the text message read: "And Muslim politicians in the UK have a duty to speak out and educate. That should be their number one priority, not staged photos taking refugees off boats and writing patronising messages of support. Had to unfollow that c***."