Tackling hate with Police Scotland's national awareness week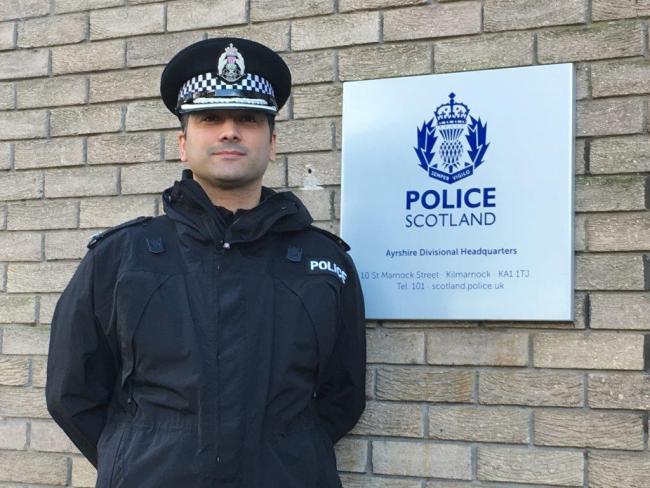 Categories: Latest News
Monday April 17 2017
The local newspaper Cumnock Chronicle reports on efforts to eradicate hate crime across Scotland via Police Scotland's Hate Crime Awareness Week 2017.
Hate crime offences are defined as being motivated by malice or ill will towards an individual or particular social group, on the basis of their actual or presumed sexual orientation, transgender identity, disability, race/ethnicity or religion/beliefs.
Local police force Ayrshire Police delivered a hard-hitting message that victimisation of particular individuals or groups will not be tolerated.
Police Superintendent Faroque Hussain explained how hate crime impacts victims, and how Police Scotland are tackling hate crime as a priority.
Hussain said, "We need to be clear hate crime is not normal and won't be tolerated in our communities.
"Officers across East Ayrshire will be working to raise awareness on hate crime, the support available to victims and the various methods available to report hate crime.
 "As a community we must come together, challenge negative behaviour and report incidents of hate crime.
"Hate crime is a key priority for Police Scotland. The deep personal impact it can have on victims, their family, friends and on entire communities cannot be underestimated."
Figures from the Crown Office & Procurator Fiscal Service revealed that there were 3,712 charges relating to race crimes and 581 charges for religiously aggravated crimes in Scotland in 2015-16. Court proceedings were commenced in 85% of race crime charges and 90% of religiously aggravated cases.
Hate crime can be reported to Police Scotland at any police station or by phoning 101. Victims can also report hate crime by contacting any of Scotland's 400+ third party reporting centres, a list of which can be found here.