The 5 Pillars of Islamophobia
Categories: Latest News
Monday January 04 2016
The 5 Pillars of Islamophobia
Between 14 and 17 September 2015, mend organised a speaking tour with Professor David Miller, co-founder of Spinwatch, to explore the findings from his most recent publication on 'The Henry Jackson Society and the degeneration of British Neo-conservatism: Liberal interventionism, Islamophobia and the War on Terror' and investigative research examining the players, modalities and strategies of the Counter-Jihad Network.
Professor Miller had his research team have identified 'The 5 Pillars of Islamophobia' and drawing on this work, mend initiated a tour to disseminate the research findings among Muslim communities for the purposes of public awareness and enhancing public debate, equipping Muslim communities with a knowledge base to challenge Islamophobic narratives and the players who perpetuate them, and to engage with local communities more widely at a time when one of the identified pillars of Islamophobia, counter-extremism policy, was creating considerable unease among communities with the introduction of a new statutory duty on Prevent and its implications for a host of services delivered by local councils and other statutory bodies.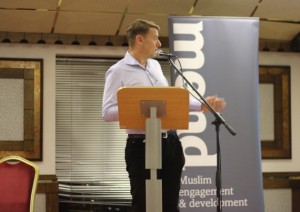 As an NGO dedicated to challenging Islamophobia and improving Muslim participation in media and politics, the speaking tour was a new campaign among our established campaigns and projects on Muslim community engagement and development. We run regular workshops on media and political literacy and a workshop on Islamophobia: Causes and Cures with the sole purpose of capacity building in local communities. Training local community organisations to tackle anti-Muslim hatred and prejudice is one of our stated aims and the '5 Pillars of Islamophobia Tour' was devised to build on this existing work utilising Professor Miller's recent research.
The tour was hugely successful with high attendance and an even higher volume of online engagement facilitated by our social media team, which was present at all tour locations.
The tour visited four UK cities (attendance figure in brackets): London (249), Leicester (70), Leeds (130) and Manchester (183).
Over the course of the four days, public engagement on our social media platforms, Facebook and Twitter, related to the tour specifically, looked like this:
On Twitter, there were 604 Retweets (average of 151 RT per day) with our Twitter reach spanning 110,243 impressions (average of 27,561 per day).
On Facebook, the reach of our posts over the course of the tour was 73,829, an average of 18,457 per day).
Some sample messages posted on our pages from participants; online and in attendance, are reproduced below.
Media coverage of the Spinwatch tour can be read on the following links:
Ilford Recorder, 18 September 2015
Socialist Worker, 22 September 2015
We hope to build on this initial work with a follow up tour next year visiting new cities and further disseminating the findings from the research on the Counter-Jihad Network. With the growing threat to Muslim communities in the UK and Europe from counter-extremism policies and their expansion into new areas of civil rights, and the resurgence of far right activity across Europe, we hope to continue to inform and educate civil society, particularly British Muslim citizens, about the Counter-Jihad Network and the 5 Pillars of Islamophobia the better to train them to tackle threats to their faith identity and to individual and collective security.