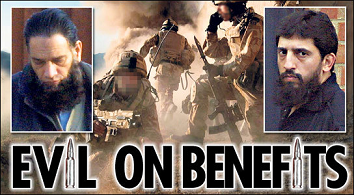 The News of the World has today apologised in open court and agreed to pay £100,000 in libel damages to Shakil Akhtar, a mechanic form High Wycombe, for publishing a story and editorial in February 2008, 'Evil on Benefits' and 'Sick Parasites Spawn Terror', accusing Mr Akhtar of channeling funds raised in the UK to terror cells abroad.
The News of the World, owned by Rupert Murdoch's News Group Newspapers, claimed that Akhtar was responsible for the channeling of funds to groups in Afghanistan among other places, who then used the money to purchase weapons for use against British forces.
The allegations made by the paper led to a police investigation and extensive search of Mr Akhtar's house though no charges were brought against him.
In a statement read in open court today, the paper accepted:
'Mr. Akhtar is not and never has been involved in the funding of terrorism in any way whatsoever, and nor is he or has ever been a member of a militant cell. The News of the World now accepts that he has no connection with terrorism whatsoever and in fact earns his living honestly as a car mechanic in High Wycombe. Further, notwithstanding the prolonged Police investigation, Mr. Akhtar has never been arrested or charged over any offence related to this or any other matter. Mr Akhtar would like to make it clear that he does not support or condone violence against British forces in Afghanistan, or indeed anywhere.'
'Predictably the allegations contained within the article were also seized upon by elements of the far-right and have been presented as being indicative of the problems facing multicultural Britain,' Mr Akhtar's solicitor said.