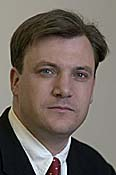 | | | |
| --- | --- | --- |
|   |   | Ed Balls, Secretary of State for Children, Schools and Families, writes in the Daily Telegraph today on the controversy sparked by David Cameron's ill-informed remarks last week on the two schools run by the Islamic Shakhsiyah Foundation.   |
He writes:
'We must never forget that – as well as the police and security services – the people who are working hardest in our country to tackle Islamist extremism are British Muslims themselves.
'And what undermines their efforts to tackle extremism most is when the media or politicians make false accusations which smear every Muslim with the same extremist brush.
'whatever the political and media pressure – politicians cannot and should not make organisations unlawful simply because they find their views offensive and deplorable without the necessary evidence.
'Nevertheless, David Cameron and Michael Gove continue to call for Hizb-ut-Tahir to be banned – without providing the evidence and ignoring the legal advice Ministers have received.'