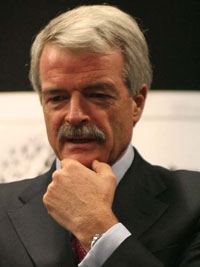 | | | |
| --- | --- | --- |
|   |   | The President and Provost of University College London, Malcolm Grant (pictured), has written an article for the Times Higher Education website in which he has defended his college from the many scurrilous allegations that have been made against it in recent days following the failed terrorist attack by the alleged bomber Umar Farouk Abdulmutallab.  |
Grant writes:
'What induced this behaviour remains a mystery. He has not emerged from a background of deprivation and poverty. He came from one of Nigeria's wealthiest families. He was privately educated, and to a high level. He gained admission to University College London, where he studied mechanical engineering with business finance between 2005 and 2008, and was president of the UCL student Islamic Society in 2006-07…
'…According to The Daily Telegraph, "[e]ven though Abdulmutallab is not even a British citizen, he was still allowed to be elected president of the Islamic Society at [UCL]". And more: "It is easy to imagine that the authorities at UCL took quiet pride in the fact that they had a radical Nigerian Muslim running their Islamic Society. You can't get more politically correct than that. They would therefore have had little interest in monitoring whether he was using a British university campus as a recruiting ground for al-Qaida terrorists such as himself."
'This is quite spectacular insinuation. And without so much as a shred of evidence in substantiation. The Telegraph blog that follows the publication of this piece displays quite disturbing Islamophobia, anti-immigration rants and even postings calling for the bombing of UCL itself.
'Other UK newspaper comment accuses us at UCL of being "complicit" in the radicalisation of Muslim students; and, again, of "failing grotesquely" to prevent extremists from giving lectures on campus. Mr Abdulmutallab's presidency of the UCL student Islamic Society is further condemned for having provoked debate about the war against terror. It is a delicious irony that a theme that has sold so many national newspapers should now be declared by them to be unacceptable for student debate…