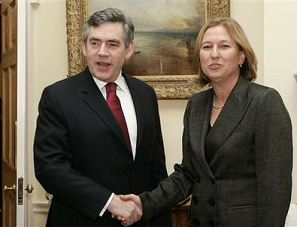 | | | |
| --- | --- | --- |
| |   | The Jewish Chronicle front page today revisits the pro-Israel lobby's persistence in securing a change to the law on universal jurisdiction, before the end of this parliamentary term, to allow Israeli and other foreign politicians accused of war crimes to travel freely to the UK immune from arrest and prosecution. |
The JC today reports:
'Gordon Brown has personally intervened to unblock the logjam over a change in the law that allows local magistrates to issue arrest warrants for visiting foreign politicians accused of war crimes.
'The JC understands the Prime Minister is determined to press ahead with the law change before the election.
'The Prime Minister pledged his support for Ms Livni but did not immediately prioritise the issue.
'However, he has now called in key ally and fixer Tom Watson to advise on the issue. The MP for West Bromwich is known for his strong views in support of Israel and challenged Mr Straw on the floor of the House of Commons earlier this month.'