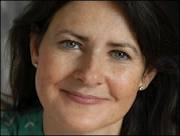 The Daily Mail prints comments made by the show's creator and star, Adil Ray, addressing viewer reactions to certain scenes, Ray tells the paper:
"'Citizen Khan is not a Muslim comedy, it is a British family sitcom. It is family comedy with universal themes of hypocrisy, deceit, and relationships that we can all connect to.'
"'We [Muslims] are not all the same. This is something I want to get away from. British Muslims are all very different people.
"'It is a great opportunity for Muslims to be seen as like everybody else. To say, "Look we have the same human flaws as everyone else but we just have a different religion".'
"He said it was 'only natural' for some viewers to feel 'sensitive' as there have been few 'fictional depictions' of Muslim life on British TV."
Cristina Odone in the Daily Telegraph meanwhile writes that Citizen Khan could prove to be the Tebbit test for British Muslims.
She writes, "After the Olympics proved that many Muslims would pass the Norman Tebbit cricket test…here is a new challenge for the two million-strong minority: can you laugh at "Citizen Khan"?"
Reflecting on the ridicule heaped on the Catholic community, Odone states that comedy is the next threshold Muslims must overcome, accepting the comic potential of the 'small hypocrisies that go on in a religious household'.
She goes on to suggest that Muslims have had something of an easy ride in the comic department on account of their having "developed a thin skin [since 9/11] that has inhibited our dealings with them. It has certainly inhibited the BBC, which for years has tiptoed around Muslim sensibilities (the corporation initially refused to call the murder of Shafilea Ahmed by her parents "an honour killing", lest it foment ugly racist reactions)."
Given that Odone has previously written of 'honour killings' as a Muslim issue, her pejorative claim of 'Muslim sensibilities' being a point of caution in the BBC's coverage of Shafilea Ahmed's murder is ignorant, but not out of character. But the idea that Muslims have 'developed a thin skin' since 9/11 is positively repulsive.
Muslims have endured such things as the emergence of far right social movements, like the English Defence League, which with their anti-Muslim rhetoric and demonstrations have wreaked havoc in communities across the country with a spate of attacks on Muslim persons and property frequently following in their wake. As well as the revival of far right political parties, like the National Front and British National Party whose election manifestoes single out Islam as an 'alien religion' impugning against halal meat, mosques and religious dress. The Danish cartoons of 2002, the Pope's Regensburg Address of 2006, the bans on religious symbols, and later of face coverings in France, the Swiss minarets ban in 2009, or the regular and frequent portrayal of Islam and Muslims in the British media in derogatory terms – whether it be on the issue of halal meat or veiling by Muslim women – it is a rich claim indeed to suggest that Muslims have developed a 'thin skin' in the face of this "repressive legislative and rhetorical onslaught," as Gary Younge puts it, in recent years.
Odone goes on to recall the Rushdie affair and the Muslim reaction to assaults on matters deemed sacred stating that, "A community that issues a fatwah over a caricature of its spiritual leader is not a community to trifle with. That was an own goal for British Muslims. They had drawn a line between "us" and "them"."
And yet, the "us" and "them" divide is ever present in the media. The Cardiff university study of 2008, Images of Islam in the UK: The Representation of British Muslims in the National Print News Media 2000-2008, argued that there is an "increasing importance of stories focusing on religious and cultural differences between Islam and British culture or the West in general."
Odone concludes:
"Citizen Khan gives Muslims a chance to fight this image of self-righteous fundamentalists who are forever on the margins. It doesn't bode well that already, the BBC has received hundreds of complaints from outraged viewers (presumably Muslims, as no one else could be offended by this mild-mannered comedy). Muslims need a couple of imams to speak up in support of this comedy. But don't hold your breath."
And here, she betrays her Catholic affiliation. In seeking for "imams to speak up in support of this comedy," she draws a correlation with the Catholic Church's hierarchy. It might come as some surprise to Ms Odone, but whether an imam welcomes or endorses the BBC's new sitcom, the individual British Muslim license-fee payer is free to form his or her own judgment on the quality and merit of Citizen Khan.