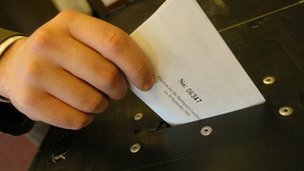 BBC News reports on a consultation opened by the Communities and Local Government department on changing the date for the UK local elections in 2014 to coincide with the European Parliament elections which will take place the same year.
The Government is consulting ahead of the elections which will see officials stand for election in 160 principal local authorities in England, including in all 32 London boroughs, and for 5 directly elected mayors (in Hackney, Lewisham, Newham, Tower Hamlets and Watford).
According to the consultation paper, combining polling to fall on the same day will save an estimated £10 million, as well as avoid any confusion arising from elections taking place within weeks of each other.
The paper sets out the consultation on "…moving the date of the local elections in England from 1 May 2014, so that they take place on the same day as the European Parliamentary elections in that year. It invites the views of interested parties, including local authorities, on whether or not to move the local government elections."
It states, "It is less convenient for voters to be asked to turn out and vote twice within a period of weeks and hence having elections on the same day supports the fairness of elections."
You can read the consultation paper here. The consultation concludes on 13th May 2013.