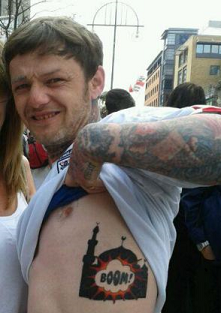 The Daily Mail reports on the arrest of the man photographed showing off a mosque bomb tattoo at a recent English Defence League rally in Birmingham.

Sean Reah, of South Shields, South Tyneside, has been arrested on suspicion of inciting racial hatred.

Mr Reah was pictured at the Birmingham demonstration on Saturday 20 July lifting up his T-shirt to reveal a tattoo of a mosque with the word 'BOOM' written across it.
A West Midlands police spokesman confirmed: "A 39-year-old man has been arrested in South Tyneside on behalf of West Midlands Police on suspicion of using words or behaviour, or displaying written material with intent to stir up racial hatred."
Reah, in an interview with regional news site, Sky Tyne and Wear, said that he had since removed the tattoo "because people found it offensive."
When asked why he had got the tattoo in the first place, he said: "It was just a daft thing to do."
The rally in Birmingham attracted around 1000 far right supporters and ended in violence and disorder with 20 arrests and a policeman being taken to hospital.
A 20-year-old woman was charged with racially aggravated public disorder and two men have since been charged with possessing offensive weapons. Police are now trawling through hours on CCTV footage to try and identify other offenders.
A police spokesman said: "The wealth of exceptional quality CCTV within the area is likely to provide significant investigative opportunities to bring a large number of offenders to justice for what, at times, appeared to be serious offences."