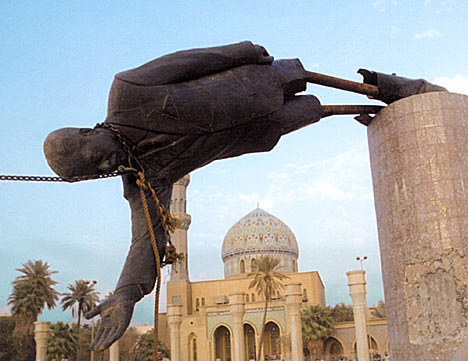 The Independent, Guardian and ITV News all report on the long awaited declassification of key documents to the Iraq Inquiry paving the way for the inquiry's impasse over the publication of its report to be lifted. The Inquiry was established in 2009 to investigate Britain's involvement in the Iraq war but has been dogged by delays over the publication of its findings after key documents were withheld from the Inquiry.
The Independent in an exclusive report claims that progress has been made over access to the documents with their declassification expected 'within the next few months'.
The Independent claims "a cache of notes from Mr Blair to Mr Bush, records of telephone conversations and meetings, as well as up to 200 minutes of cabinet-level discussions are to be published in the new year."
According to the Guardian, extracts of the Blair-Bush correspondence are expected to be published in the final report, albeit in redacted form, allowing for the Maxwellisation process, by which individuals are alerted to provisional criticisms offering an opportunity for their defence, to progress.
There have been recurrent delays to the publication of the Inquiry report due to the Government's refusal to disclose key documents amid concerns for preserving relations with the United States. Last month, Sir John Chilcot in a statement on the Inquiry website, argued that its work could not proceed to the next phase without "the satisfactory completion of discussions between the inquiry and the government on disclosure of material that the inquiry wishes to include in its report or publish alongside it".
A crucial document is said to consist of a communication between Blair and Bush in July 2002 in which the former PM gave the US preisdent the impression that the UK would back a US led military campaign to remove Saddam Hussein from power. Sir David Manning, Blair's chief foreign affairs adviser, is said to have criticised Blair's original draft communication as "too sweeping" and "went further than we should have gone".
According to the Guardian, Whitehall is expecting that the report to criticise Blair, his foreign secretary Jack Straw, Gordon Brown and Sir Richard Dearlove, former head of MI6.
The Independent goes on to report that a government source has stated that "there is an ongoing process of declassification, which is attempting to strike a careful balance to ensure that you are not setting a legal precedent that could oblige you to publish other documents in the future or damage national security."