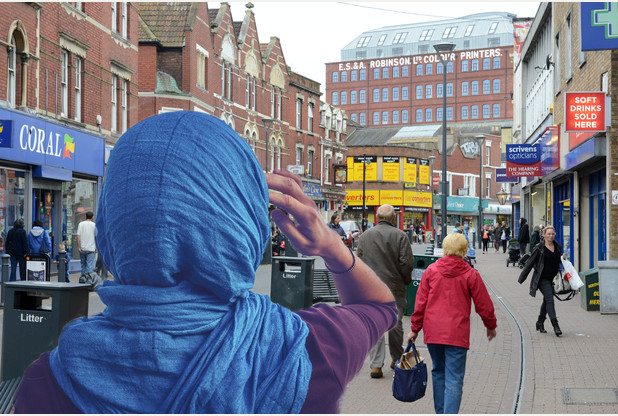 Local newspaper, Western Daily Press, reports on an interview in the Bristol Post with a white Muslim convert who says she has experienced assaults, insults, sly remarks and threats since she converted to Islam at the age of 18.
Kelly Ziane had approached the Bristol Post after it published an article on a racially motivated assault at a Poundstretcher in Bedminster. The article struck a chord with Ziane who contacted the paper to relay her own experiences of racial hatred. She said:
"I saw the news the other night, about the Muslim women attacked at Poundstretcher in East Street, and there was a police officer saying racist incidents are very rare in Bristol. In my experience, that's not the case at all.
"I converted to Islam 19 years ago. I grew up in Bedminster and over the last ten years it's got a lot worse. I don't have enough fingers to count on my hands the number of incidents.
"It gets to the stage where you don't see the point in reporting everything that happens to you."
While her husband can only recall two incidents of being verbally abused, Kelly's experience of abuse varied over the years: she was spat on by a man who tried to pull off her headscarf on her way home from work; she has been called a "Paki" and a "raghead" by women in shops; and been asked whether she speaks English.
In 2011, a man drove his car at Kelly and her children as they crossed a road in Bedminster. The man, whom she does not name, revved up his car and sped towards them before screeching to a halt and shouting abuse at them out of the window. Kelly told the local paper he was convicted of a driving offence and given penalty points.
After the incident, one of her daughters, 18 months old at the time, started repeating the "Paki" slur she heard.
Kelly also said she was forced to take her eldest two children out of their previous primary school after she was racially abused by another parent in the school grounds.
In response to the Bristol Post's question as to why she feels she has been subjected to abuse, Kelly said: "I think it's a combination of things – negative stories in the media about Muslims, incidents like the killing of the soldier in London (Lee Rigby) and international events like 9/11. After things like that, it can get really tense.
"To be honest, most of the time I don't think it's about the colour of my skin – I think it's purely because I have my head- dress on.
"I often get asked if I'm Syrian, because I have very fair skin and I'm a Muslim. But I've also been called Somali and I've never seen a white Somali.
"But there are lots of Asian and African Muslims who get abuse too. I lived in North London for a couple of years and didn't have any problems there – only when I moved back to Bristol."