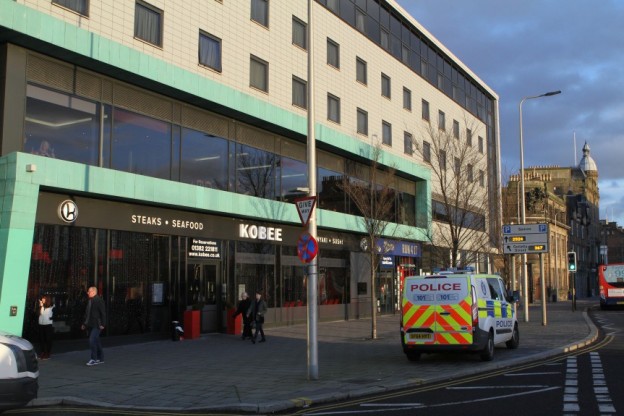 The Dundee Evening Telegraph reports on an anti-Muslim hate crime incident alleged to have happened at the Kobee restaurant in the city on the evening of 28 December.
The local paper reports that a couple entered the restaurant at around 7.30pm to collect a takeaway order. As the couple waited for their order to be prepared, they saw a Muslim male enter the restaurant accompanied by two young women. The group of three were seated at a table in the restaurant's dining area.
As the couple were handed their takeaway order, the woman made her way into the seating section and is said to have stood at one end of the table at which the Muslim man and the two young women were seated.
Alastair Robb, the restaurant manager, said that at first he had assumed the woman knew the group but he heard the female make abusive remarks and asked her to leave the restaurant.
He told the local paper, "I heard the woman say, 'I hate Muslims' towards them."
He added: "I was absolutely disgusted when I heard what she was saying.
"Straight away I told the woman and the man to leave.
"I phoned the police after they left. To hear that kind of thing is sickening. It's 2015 and you would think people would know better than to shout racist abuse."
Valy Ossman, owner of the Kobee restaurant said the incident was indicative of reports of anti Muslim abuse in other parts of the country. He said, "There is absolutely no excuse for any sort of hate crime taking place anywhere in the UK today, let alone in the restaurant – it cannot be tolerated."
Police Scotland have confirmed that they are investigating the incident. A police spokesperson told the local paper "Police Scotland can confirm that officers are investigating an incident within a restaurant in Dock Street, Dundee, where a woman is reported to have made abusive comments towards a man."
No arrests have been reported and police inquiries into the incident are ongoing.