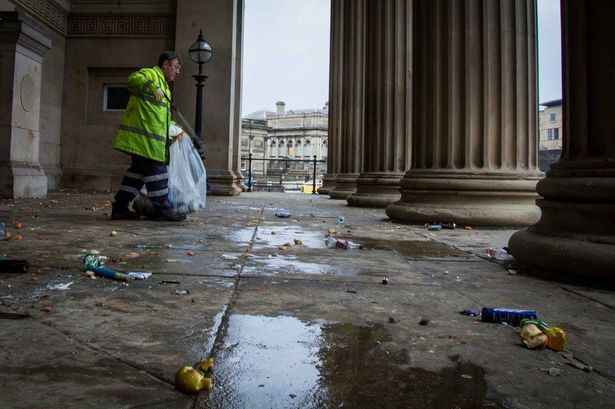 The Liverpool Echo and the Daily Express report on comments by the Mayor of Liverpool, Joe Anderson, who has repeated demands that he be given powers to ban far-right groups from marching in Liverpool following the arrest of 34 men at a far right neo-Nazi protest in the city over the weekend.
Police reinforcements from Greater Manchester were required to help assist Merseyside Police in dealing with acts of violence. Televised scenes showed shocking levels of violence erupt during the protest.
Among those arrested were a 60 year old man, who is suspected of assaulting a police constable, a 39 year old man on suspicion of obstructing a police officer and being in breach of the peace, a 33 year old man on suspicion of a section four public order offence and a further 31 men on suspicion of offences ranging from violent disorder to possession of offensive weapons. A number of discarded weapons were also recovered by officers during the protest.
The protest was led by Manchester based splinter group, the North West Infidels. News reports claim missiles were thrown into crowds of people including bottles, fireworks, smoke bombs, bricks and heavy cobblestones. One police officer was taken to hospital after he suffered concussion from a blow to the head, and a 21 year old student, Abbie James, suffered a deep cut to her forehead requiring stitches and possibly plastic surgery after she was allegedly hit by a cobblestone.
In light of the chaotic scenes on Saturday 27 February, Mayor Anderson said he would write to the Home Secretary, Theresa May, asking her to give him the authority to ban far-right marches in the city. He made a similar request last August when another far right group, National Action, tried to hold a "White Man March" in Liverpool.
Mayor Anderson said: "I am asking for a change in the law to give mayors the ability to stop these events taking place. This isn't about banning free speech, but about banning people who incite racial hatred and Nazi views. These people have no place in this city. The Mayor and elected representatives should be able to stop such groups coming in. They are not here to air their views, but to cause violence and anti-social behaviour. The appalling scenes we witnessed also disrupted business and caused huge emotional upset to people visiting the city centre. The cost will run into many thousands, not only in terms of policing, but also the clean-up operation."
A clean-up operation by the local council involved removing, swastika logos which had been daubed on the walls of St George's Hall.
The call to ban far right protests in Liverpool follow on from comments by South Yorkshire Police Chief Constable, David Crompton, who announced that he was looking into ending far-right protests because funds and resources that should be used for protecting victims of crime were being unnecessarily diverted to police protests.
Last year, Rotherham Council lent their support to Mr Compton after it was revealed that £4 million had been spent on policing far right protests in the region over the last three years. In a joint submission by the council and police force, they called on the Home Secretary to dispense special powers under the Public Order Act allowing the local force and council to ban protests in the town for up to three months.
The call to ban far-right protests was also made by Waltham Forest council last year after complaints were made to the Metropolitan Police Service about the manner in which it handled an English Defence League protest on the "continuing assault from Islamification in the UK" in Walthamstow.
The costs of far right protests across the country has also been raised by other local councils and in Parliament. The MP for Stalybridge and Hyde, Jonathan Reynolds, raised the issue in Parliament two years ago and asked MPs to consider whether such protests were "appropriate" given their intent to ignite racial tensions and disrupt social activities, as well as prompting significant policing operations.
Last year, Police and Crime Commissioner for Bedfordshire, Olly Martins, wrote to the Home Secretary stating that the burdens placed on local forces to police far right protests was "untenable" and that central support was needed to deal with the number of such protests in certain parts of the country.