The Challenge Ahead- an evening with mend
Date: 05 May 2017
Time: 6:00am - 9:00pm
Venue: Ramada Hotel Loughborough, High Street
Loughborough, LE11 2QL United Kingdom
About this event: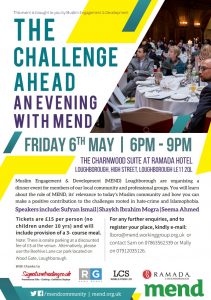 Muslim Engagement & Development (mend) Loughborough are organising a dinner event for members of our local community and professional groups. You will learn about the role of mend, its' relevance to today's Muslim community and how you can make a positive contribution to the challenges rooted in hate-crime and Islamophobia. Speakers include:
Sufyan Ismail
Shaykh Ibrahim Mogra
Seema Ahmed
Note: There is onsite parking at a discounted fee of £3 at the venue. Alternatively, please use the Beehive Lane car park located on Wood Gate, Loughborough.
Tickets are £15 per person (no children under 10 yrs) and will include provision of a 3- course meal.
For any further enquiries, and to register your place, kindly e-mail lboro@mend.workinggroup.org.uk  or contact Sam on 07863562339 or Mally on 07912035126.
Related Events