Events Calendar
Why attend a MEND event?
With at least 7,000 anti-Muslim hate crimes a year, systemic discrimination against Muslims in the workplace and relentless media negativity, there has never been a more important time to attend a MEND event and to learn more about tackling Islamophobia. Anti-Muslim hatred affects us all, just like racism and anti-Semitism. MEND unites communities to tackle Islamophobia. Sign up for an event below and learn more about the challenge at hand.

Events for 12th November 2017
Day Navigation
All Day
Come and join us at our open exhibition for people to view. There will be volunteers to help guide a member of the public through the display which celebrates positive contributions of British Muslims, dispose of common myths about British Muslims and highlights the media's role in perpetuating anti-muslim prejudice. For more information about this […]
Find out more »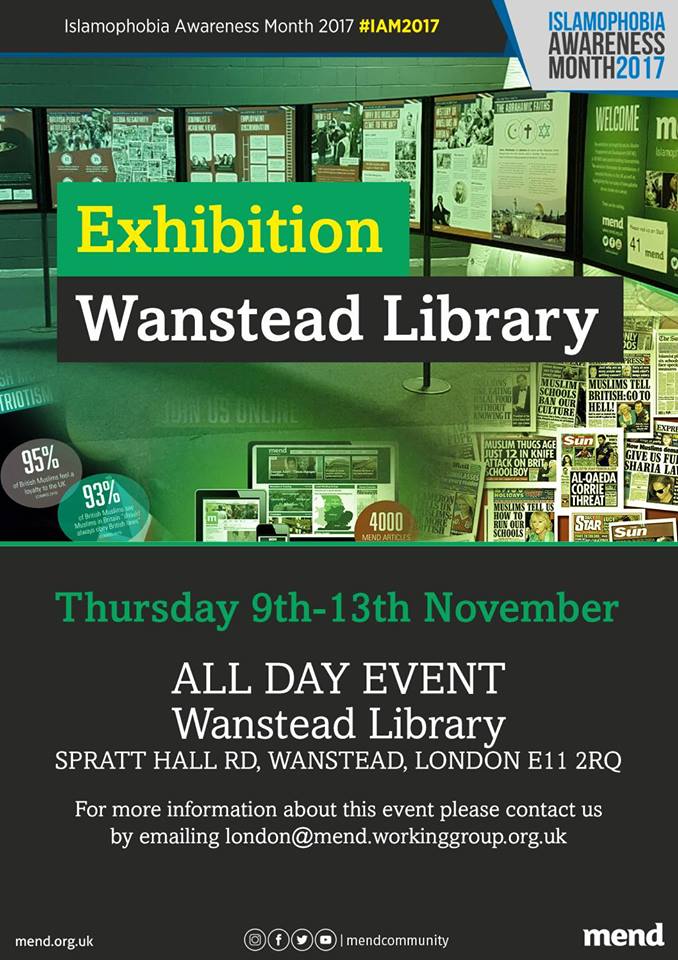 Billboard exhibition showing positive contributions of British Muslims and Islamophobia.
Find out more »
11:00 am
Come and find out about Islam and the challenges and contributions British Muslims face and have made. The event is open to all. For more information contact us by emailing contact@newcastlecentralmosque.com or calling 07500 338 433.
Find out more »
11:30 am
£1 - £15
196 tickets left
An event aimed to bring together Muslim and non-Muslim women together to act in a form of solidarity to tackle Islamophobia. There will be a short presentation on MEND's work by Dr. Tuba Mazhari (MEND Waltham Forest Women's LEAD), followed by a badminton tournament. Refreshments available on the day. Guest speaker Hafisa Patel Muslim Sports […]
Find out more »
+ Export Events