mend STATEMENT ON 'STOP AND SEARCH' OF MUSLIM MALE OUTSIDE REGENT'S PARK MOSQUE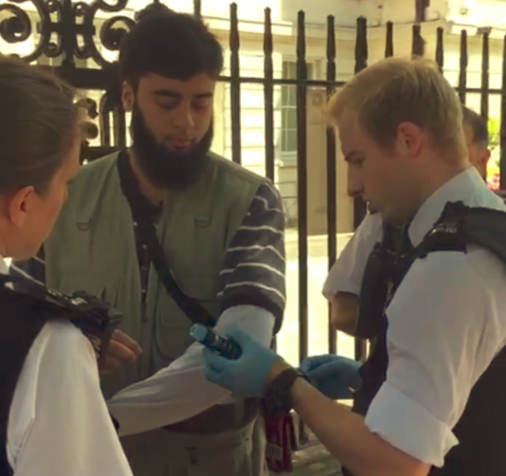 Categories: Latest News, Press Releases
Sunday July 09 2017
On Friday 7 July 2017 just before Friday prayers at around 1:30pm, Mr. Muhammad Chamoune was stopped and searched by the police on Park Road, London, outside Abbey Lodge near Regent's Park Mosque.  Footage of the stop and search has been widely distributed via social media and is available to view here: https://www.youtube.com/watch?v=bkRhZAC2r04.  The tweet has been retweeted over 18,000 times and the Facebook video has over 5 million views.
Police powers to stop and search are governed by the Police & Criminal Evidence Act 1984 (PACE). The relevant code governing these powers is called Code A, and is available at; https://www.gov.uk/government/uploads/system/uploads/attachment_data/file/384122/PaceCodeAWeb.pdf
The very first principle in PACE Code A is that the powers must be used fairly, responsibly, with respect for people being searched and without unlawful discrimination.  The code outlines that the police must have "reasonable grounds for suspicion" prior to being able to use stop and search powers (PACE Code A 2.2). This suspicion must be on an objective basis (PACE Code A 2.2(ii)) – i.e. "based on facts, information and/or intelligence, which are relevant to the likelihood that the object in question will be found, so that a reasonable person would be entitled to reach the same conclusion based on the same facts and information and/or intelligence".  PACE Code A 2.2B states that a person's physical appearance cannot be used to support 'reasonable suspicion' unless "the police have information or intelligence which provides a description of a person suspected of carrying an article for which there is a power to stop and search".
Judging by the above video, it is unclear what 'reasonable grounds of suspicion' may have existed.  It appears as if an extra layer of clothing was the reason for the search and naturally this has caused major concern for Muslims across the UK and for the Islamophobia Response Unit (IRU), run by mend. However we accept that the full facts of the case are not yet available and thus we urge caution in formulating premature judgements regarding the police action in this case.
During the day, the IRU has been in touch with senior officers at the Metropolitan Police who have been highly cooperative and are urgently dealing with the matter.  The Islamophobia Response Unit expects to hear from the Metropolitan Police very shortly on this matter and we will be issuing an updated statement accordingly.
Notes for Editors:
The Islamophobia Response Unit (IRU) is a project run by mend (Muslim Engagement and Development) – www.mend.org.uk.
mend is committed to empowering British Muslims in the fields of media and political engagement
mend's work has been commended by The World Economic Forum, The Office for democratic Institutions and Human Rights and EU Parliament Magazine
Queries and further information requests to be sent to IRU@mend.org.uk